Make $50 an Hour as a DoorDash Driver
If you're looking for a side gig or extra income, then check this out! It's not secret or surprise that people are staying home and eating at home because of the COVID-19 Coronavirus pandemic quarantine. And, that delivery drivers are in super high demand. In other words, services like DoorDash are really thriving. And, that means drivers are making more money than ever.
Bring home the bacon. Start delivering today and make great money on your own schedule.
How much does DoorDash Pay?
DoorDash advertises that you will earn between $15 – $25 an hour. Drivers have reported earning between $7 – $10 per deliver, and averaging 2-3 deliveries per hour. Therefore, if you work more, you'll earn more. For example, if you're a go-getter and make 5 deliveries an hour, that would be a whopping $50 per hour earned!
So, for example, if you're used to making $7.25 an hour for minimum wage and you make $50 an hour with this, you could make almost 7 times more per hour. At minimum wage, you'll earn $58 for 8 hours. You could free up your time by only working a few hours and making the same or more. It's all up to you!
Is it safe?
With the Coronavirus pandemic, you might wonder if it's safe to be a delivery driver. DoorDash has set up a number of programs to help their drivers stay safe. For example, all deliveries are no-contact. And, as a driver you'll have access to doctor visits for $4 and priority COVID-19 testing. In addition, they have set up an exclusive store for their drivers to get personal protection equipment (PPE) such as face masks and gloves.
What is DoorDash
Available in over 4,000 cities in the U.S., Canada, and Australia, DoorDash is about connecting people with possibilities: bigger savings accounts, wider nets, stronger communities, and happier days. We empower local businesses and local drivers (called Dashers) with opportunities to earn, work, and live.
As a Dasher, you can be your own boss and enjoy the flexibility of choosing when, where, and how much you earn. All you need is a mode of transportation and a smartphone to start making money. It's that simple.
Requirements to becoming a dasher include the following: 18+, own vehicle, own a iPhone or Android smartphone, valid insurance with name on policy, provide SSN for background check, pass a background and driver record check, and complete an orientation online or in person.
Why Become a DoorDash Dasher Delivery Driver?
No experience necessary!
Be your own boss! Work whenever, wherever you want. Make it a full-time gig, or part-time, or even sometimes.
Where can you work? DoorDash is in 4,000 cities in all 50 states, including D.C. and Puerto Rico. And in 80 cities in Canada; and in Melbourne, Australia. Lots more coming soon!
How long does signing up take? Only 1-2 minutes! Plus, you can start working in as little as a week.
What do you need to be a DoorDash driver? All you need is a smart phone and a mode of transportation (such as a bike or vehicle).
What does a Dasher do? Easy: 1) go to restaurant and pick up food. 2) bring it to customer. All deliveries are no-contact during the COVID-19 Coronavirus Pandemic.
Why is DoorDash better than Uber or Lyft? Simple, you get paid to deliver stuff, not people. There's nobody in your vehicle and you can use whatever mode of transportation you want – bicycle, motorcycle, car, etc.
DoorDash welcomes drivers and bikers from other delivery services such as UberEats, Postmates, Lyft, Caviar, Eat24, Google Express, GrubHub, AmazonFresh, Instacart, Amazon, Uber, Waitr, and Bite Squad. Dashers come from all backgrounds, such as catering, truck drivers, and taxi drivers.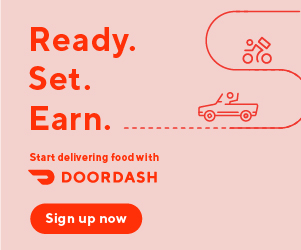 Get Started Earning